Make a Splash in Gainesville, Virginia!!
SwimKids' state of the art swim school teaches swim lessons in Gainesville, Virginia, just behind the Virginia Gateway Shopping Center at the intersection of Wellington Rd and Limestone Drive.
The 6000 square foot facility has an innovative and customized design for teaching kids swim lessons and making families welcome. Special features of the swimming pool include a built-in tot dock for baby swim lessons, several teaching areas for youth swim lessons, shallow depths from 2.5 – 4 feet so kids of all ages can touch the bottom, and warm 88 degree water year-round! Armed with the latest technology, the pool features a UV (ultraviolet) disinfection system, in addition to the traditional chlorine treatment.
Parents and families of swimmers will be comfortable in the temperature controlled viewing area, complete with comfortable chairs, tables, and a children's area with toys for the siblings. 12 foot glass walls encapsulate the pool, so a good view of ongoing classes can be enjoyed throughout the parent viewing area.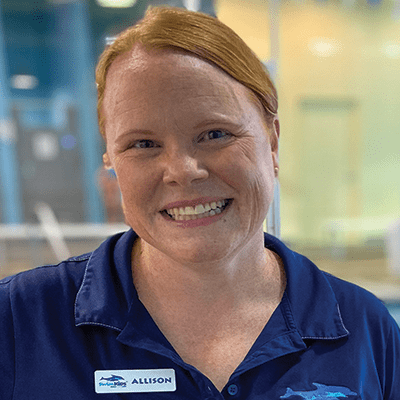 Allison Griffin
General Manager, Gainesville
What do you enjoy most about SwimKids?
I love the relationships that I have built here with our swimmers, families and most of all our amazing staff. SwimKids really is a family, and I have always felt at home here. I want everyone who walks through our doors to feel the same way!
Quote
"Often bumpy roads lead to beautiful places. And this is a beautiful place." – Dave Martinez, manager, Washington Nationals